Webinar Supremacy
In order to use a webinar to promote your business, you are going to need to know the secrets to a successful webinar.
With so much information out there, where do you even begin?
It's overwhelming, I know!
You could use the old "trial and error" method and fail.
You could waste hours of your time sifting through websites and videos and end up even worse than when you began.
The good news is I've written a handy eBook to help you get started — no matter whether you're a beginner.
I've put it all into one easy-to-understand course.
Let me introduce you to…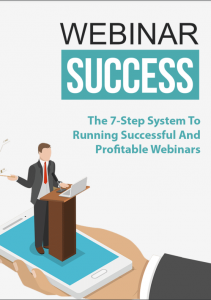 Webinar Success
Here's exactly what you'll discover inside the Webinar Supremacy:
Hosting a webinar requires a great deal of commitment and preparation, as well as a few other things like equipment, software, topic, and promotion.
Everything you need to know from your very first webinar idea to getting attendees to keep coming to your webinars over and over will be explained in great detail.

Here's what you'll discover in this course – Webinar Supremacy:
Learn how to prepare for a webinar including presentation tips to make you better at engaging your audience and tips on camera, lighting, microphone choice and more.
Discover how you can monetize your webinar in ways that you never thought possible and make even more money than you expected.
Find out what equipment you need for a webinar and how to optimize it to make sure you present the best professional webinar.
Get ideas on how to promote and advertise your webinar including many options that require no budget whatsoever.
Get tips on choosing your topic and find out how you can ensure that your webinar topic will be engaging and interesting to audiences, will allow you to monetize to make money from your webinar and allow you to present it as an expert.
Methods for improving your presenting skills, including how to have better diction, body language and many other factors.
How to improve your current webinars by making them more interesting and engaging, including the way that you present slides and using alternative forms of multimedia to make your webinar amazing.
Learn how to increase your attendees by partnering up with other speakers and each of you giving information to the audience. A webinar with one expert is great, but a webinar with multiple experts can't be missed.
…and much, much more