What Students Can Expect after taking this Course – WordPress Speed Optimization & Sales Page Mastery?
Choose cheap and reliable Web Hosting
Choose your domain name /transfer domain name
Install, SSL Certificate without tech experience (WTE)
Install and configure WordPress (WTE)
Install and configure all necessary plugins (WTE)
Create your sales page from scratch (WTE)
Test webpage speed (WTE)
Implement WordPress speed optimization (WTE)
Implement free email capture (WTE)
Implement a chat/support widget to your sales page (WTE)
and much more…
Who are the target students for WordPress Speed Optimization & Sales Page Mastery training?
Vendors
Affiliate marketers
Digital marketers and Agencies
Digital Entrepreneurs
Anyone who needs WordPress Speed Optimization
Anyone who wants to learn how to Create Fast and Powerful Sales Pages in WordPress
Businesses who are trying to get the Fastest WordPress site and Sales Pages on the internet
Individuals who want to make money online
Individuals who want to work from home…

Learn How to Create and Run Ultrafast Sales Pages in WordPress
Introducing Practical Video Training
WordPress Speed Optimization and Sales Page Mastery teach how to create, and utilize Sales Pages in WordPress from scratch.
It doesn't matter if you have any tech skills or previous experience. Everything you need to know is provided step-by-step in this training program.
Don't waste your money on an expensive Sales Page Builder,
Create A Lightning Fast Website by Yourself.
Learn and Work at Your Own Pace with this Video Program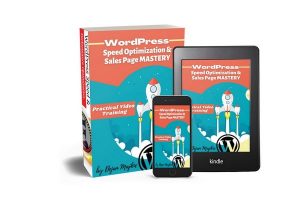 WordPress Speed Optimization & Sales Page Mastery:
MODULE 1
Choosing Web Hosting for your Sales Pages in WordPress
Lesson 1: Course INTRO WordPress Speed Optimization & Sales Page Mastery
Lesson 2: What is Web Hosting?
Lesson 3: Web Hosting Support and Customer Service
Lesson 4: What should you know about choosing a web host?
Lesson 5: Which one to buy? My recommendation on Webhosting provider
Introduction to Domain Name and SSL Certificates
Lesson 1: What is a Domain name and How to choose yours?
Lesson 2: How to Buy and or transfer a Domain Name?
Lesson 3: What is SSL Certificate and how to add one for free?
Introduction to WordPress, Plugins, and Tools for Sales Pages
Lesson 1: What is WordPress and How to install it by yourself?
Lesson 2: What are the Plugins, Preparing for the Installation?
Lesson 3: What are the Sales Pages and Elements of a Winning Sales Page?
Lesson 4: Prerequisites and Tools for creating sales page content
Lesson 5: How to create a sales page in WordPress Step-by-Step
Lesson 6: Another method – Create sales pages in WordPress using templates
Lesson 7: How to duplicate sales pages in WordPress
Lesson 8: Tips and Tricks in WordPress
Creating Sales Pages in MailerLite for Free
Lesson 1: MailerLite Part 1
Lesson 2: MailerLite Part 2
Lesson 3: MailerLite Part 3
WordPress Speed Optimization
Lesson 1: How to test the speed of our Sales page with the most popular webpage speed tools?
Lesson 2: Run WordPress sites faster INTRODUCTION
Lesson 3: Method No. 1 to improve WordPress speed
Lesson 4: Method No. 2 to improve WordPress speed
Lesson 5: Which WordPress speed method to choose?
BONUS tips for your WordPress site
Lesson 1: Free Method for unlimited email accounts
Lesson 2: Add a free messaging app to monitor and chat with your sales page visitors
Lesson 3: BONUS WordPress Tips
Lesson 4: Final Words and Good-Bye

Here's a summary of everything you get…
This is not your typical "course". In the VIDEO form, I will provide a complete program you will need to run a fast WordPress website and have beautiful sales pages for your marketing campaign.