101 Easy Scroll Saw Patterns
My name is Richard Myrchak and I want you to create beautiful, original, easy to make scroll saw art, with my collection of 101 Hand Drawn Easy Scroll Saw Patterns. Creating wooden scroll saw art is a great hobby to pass the time. Make these unique art pieces for yourself, to present as gifts, or to make and sell wooden scroll saw art online or at art and craft shows.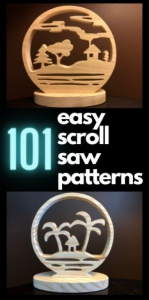 Normally I sell each pattern individually online for $4.99 Canadian Dollars, (about $4 USD), but if you purchase this complete collection of 101 easy scrolls saw patterns, then the price works out to about half price per pattern.
NOTE: 101 Easy Scroll Saw Patterns is a zipped file containing 101 scrolls saw patterns as PDF files. (You download the zipped file after your purchase and print out the patterns from your computer's printer.) Please look at the pictures below to see all the artwork you can make from these patterns.